Never worry about your
pet's health care again
Save big on your pet's medical costs. Get reimbursed
for your pet's illness, injury, and wellness expenses!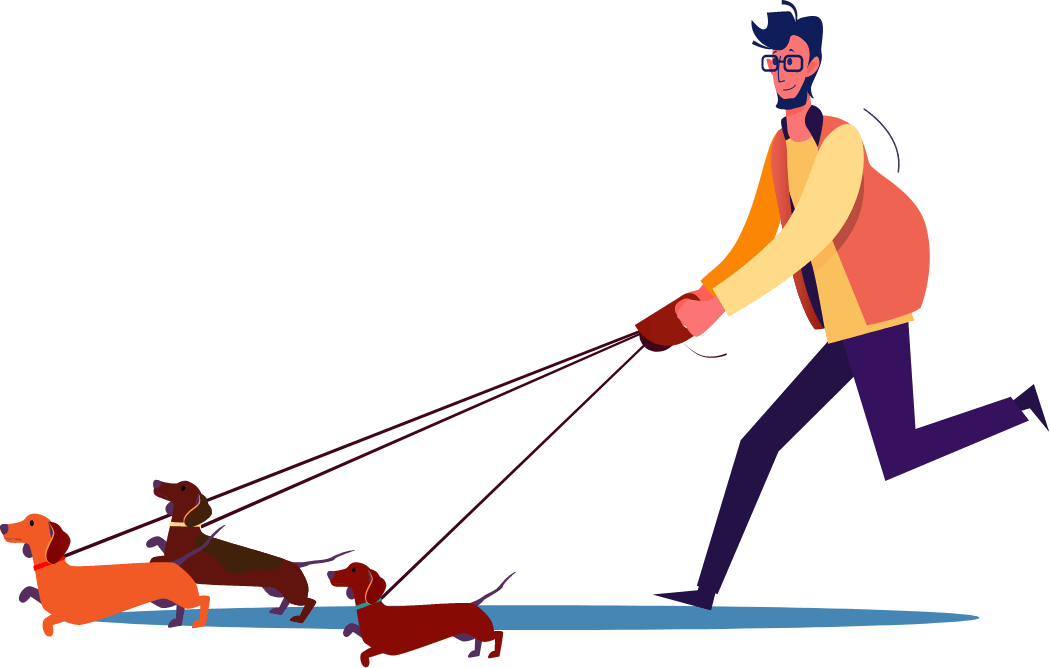 1. Sign up
Create an account for free.
2. Add your pet
Add your furry loved ones.
Start sharing!
Share with the community.
Our pets are part of our family, and when they suffer from medical emergencies and illnesses, it's our responsibility to take care of them. And when this happens, we need to dig deep into our pockets to pay for their healthcare.
Pet insurance is the most common way to help ease our pet's health care expenses, but what if there was an alternative? Did you know that there is a different option for relieving your pet's health care expenses?
This is where Eusoh comes in. Eusoh is a pet insurance alternative involving like-minded communities, where peers reimburse a member's healthcare expenses.
But since it's a relatively new concept, many pet owners may still be on the fence about it. If you're curious about Eusoh or considering purchasing a plan, but you're not yet sure, Eusoh pet insurance reviews like this one will help you make the critical decision.
And so, let's begin this review by talking about what Eusoh is in the first place.
Members need to deposit $48 on top of the monthly premiums once they join a group. If contributions for that month do not reach $48, the remaining amount will be carried over to the next month.
For example, the contribution for all members for that specific month is only $30 each. For the next month, your monthly payment will only be $30, and not $48, since you still have $18 more from the previous month. If the total expenses exceed $48 for each member, the contribution won't be more than that as it is capped at $48.
STEP 1
Go to your vet.
Pay a visit to your trusted veterinarian.
STEP 2
Pay for your services.
When you go to the vet, you'll pay for services upfront and submit your invoice and receipt to the Eusoh community for reimbursement.
STEP 3
Submit a receipt.
Simply take a photo of your receipt showing the total expenses.
STEP 4
Get reimbursed.
Your reimbursement amount is based on national average pricing plus a variance to account for differences in pricing across the country.
Eusoh presents a pet insurance alternative that involves community members reimbursing vet expenses. The concept consists of paying the company a monthly fee for membership and then joining a group of members who pool together funds each month to cover healthcare expenses for their pets.
Eusoh, pronounced "you-so," is considered the only pet insurance alternative where members pay only for what is needed. The name comes from the biological term "eusociality," which represents the highest level of social organization found in nature. One of the critical features of eusocial species is their ability to care for each other, which is the premise behind Eusoh.
The company's founder, Dr. Allen Kamrava, a surgeon and teaching staff at the Cedars Sinai Medical Center, was frustrated with inflated costs and other problems that plague pet insurance plans and decided to start Eusoh in 2017.
Since the company's launch in 2018, the company has received raving reviews and positive feedback from actual Eusoh members.
What's included in our community coverage?
Here's what you will get reimbursed for when you join Eusoh today:
NOTE: Spay/Neuter, Breeding, Grooming, Supplements, Food, and Pre-existing Conditions are NOT covered by the community.
What Plans They Offer
Unlike pet insurance, Eusoh doesn't offer different plans or policies. All members get the same standardized plan, whether your pet is a cat or dog.
Here are the health care needs covered by the plan:
Accidents or illnesses that occur after your policy is active
Annual checkups and wellness care
Emergency care
Cancer
Orthopedic issues such as arthritis and ACL tears
Prescription medication
Routine care
Hereditary conditions such as degenerative myelopathy
It does not include the following:
Dental cleanings
Flea, tick, and heartworm preventives
Spay or neuter surgery
Elective procedures such as grooming or declawing
Eusoh also does not cover pre-existing conditions unless the community or group you join agrees to cover expenses for these conditions.
Community-Based Health Sharing Plan
Eusoh is not pet insurance, but it's a community-based health sharing plan. This means once your plan is active, which is 30 days after your enrollment, you get to join a 10-member group, with members contributing an amount to reimburse each other's vet expenses.
Reimbursement of Expenses Each Month
Once your expenses are approved, you will receive an 80% reimbursement on the 28th of each month. Eusoh will directly deposit the amount to your account, and you can make withdrawals once it reflects.
Coverage of Pre-Existing Conditions Depend on the Group
Generally, pre-existing conditions are not covered, but they can be covered if group members agree to include specific conditions.
Pros and Cons
Stop worrying and start saving
Make agonizing decisions at your vet's office a thing of the past with coverage that's truly there for you at a cost you can afford.
Stop worrying and start saving
PROS
Covers Expenses Most Pet Insurance Companies Don't
Some treatments that Eusoh covers that most pet insurance companies don't include routine checkups, wellness checks, and prescription medication. Most policies also do not cover outpatient expenses, so standard or necessary treatments will be reimbursed with Eusoh's plan.
Pre-existing Conditions Can Be Covered if Members Agree
While pre-existing conditions are not covered, you can talk to your group members if they agree to cover expenses, such as checkups for the said condition. If members agree, you can be reimbursed for specific pre-existing condition expenses.
You Can Make Your Own Group
If you have friends who want to get Eusoh's plan, you can make a group. To make a group in Eusoh, you need to have ten members.
Eusoh offers $40 for each referral member makes.
You can enroll pets of any age. Whether your pet is a kitty, puppy, or a senior dog, they can be enrolled in a Eusoh plan.
You Can Use Any Vet in the US
You don't have to look for a Eusoh-verified vet, and all you need is a receipt or doctor's prescription from a licensed vet anywhere in the US.
CONS
Monthly Contributions May Differ
Monthly contributions may differ each month since the group's total monthly expenses will determine them. Though it may be different each month, it is capped at $48 and nothing more.
There is a 30-Day Waiting Period After Enrollment
After enrollment, you need to wait 30 days before your account will be active. So if your dog gets sick 29 days after you paid for membership, expenses won't be reimbursed since 30 days haven't passed yet.
If you decide to cancel your membership before one year, you can't get your deposit and payments back.
Why They are Different
Eusoh is different from pet insurance because the company does not pay for reimbursements, but the members do. Members see the transparency of expenses, and they know exactly where their money is going.
Eusoh does not typically cover pre-existing conditions, but you can negotiate with your group members to cover expenses from such diseases or disorders. Most pet insurance policies do not cover pre-existing conditions.
In terms of claims, reimbursements are made every month as long as your receipts are approved. Most pet insurance companies take longer to release claims.
Conclusion
Eusoh is quite different from pet insurance because it's not the company paying your vet bills, but it's the members themselves. Groups of 10 pet parents pool funds to pay for each other's vet expenses. What makes it great is that there is a cap to the monthly contributions, so you will never pay anything beyond $65 each month.
Pricing is a little complex, so you must understand how the reimbursements work. Eusoh has excellent customer service to answer your inquiries if you're unsure.
Though it's a relatively new company and the concept can be a little intimidating to get started, if you're the type who wants to know exactly where your money is going or how it's being used, then you will love Eusoh's plan.
It can be less costly than getting actual pet insurance, and reimbursements are released each month, which is less hassle.
But, for more significant expenses, like major surgery, Eusoh's maximum coverage of $8,500 per year may not be enough.
If you want faster reimbursements, transparent costing, and payments, and if you want to belong to a community of like-minded pet owners, then we suggest giving Eusoh a try.