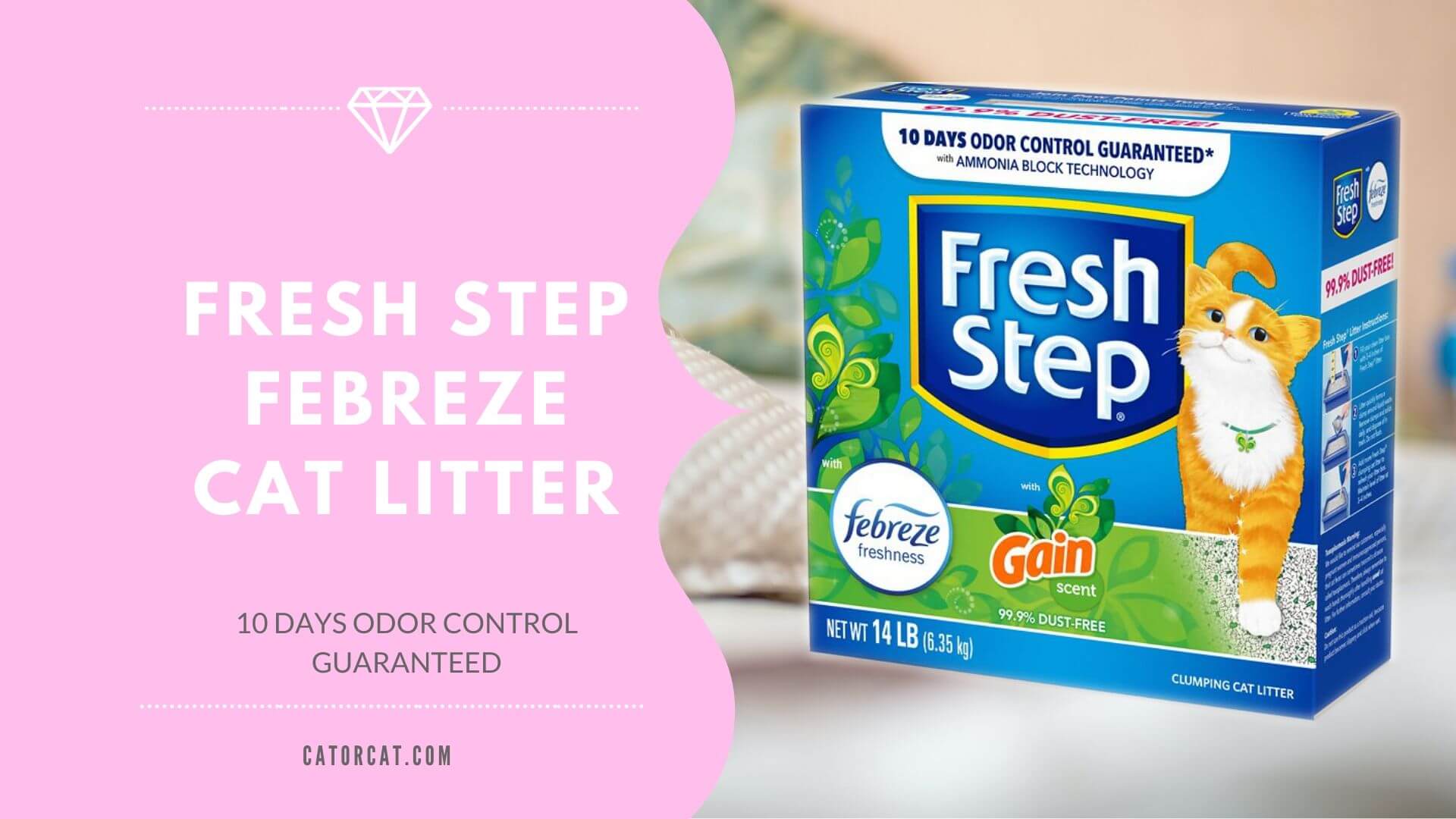 Cats are very picky when it comes to their litter. They're also very sensitive to smells and textures. When choosing the perfect cat litter for your beloved feline friend, a lot of trial and error can occur.
Luckily for you, we believe we've found one of the freshest-smelling, dust-free, and effectively clumping litters in the market.
The Fresh Step Cat Litter with Febreze Freshness and Gain Scent is a total game-changer. Cats are notorious for hating anything that's scented, but surprisingly, our cat has a shocking interest in this litter.
We were a little hesitant to try it at first because we were afraid our cat would make a fuss when we placed the litter in her litter box, but thankfully, we didn't; have any problem introducing it to her at all.
Let us tell you more about this product.
What is the Fresh Step Cat Litter in Febreze Freshness and Gain Scented Clumping Clay?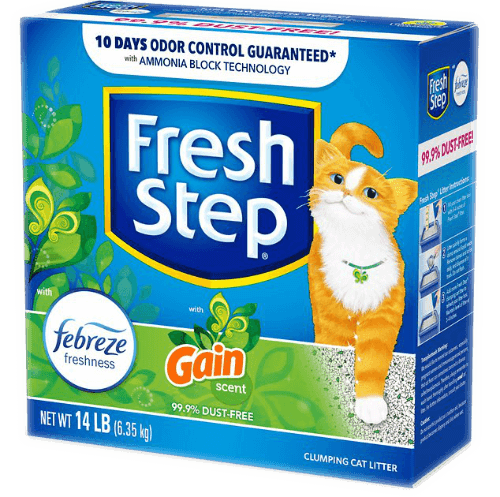 This cat litter is produced by the popular Fresh Step brand, which has been around since 1984. They have a wide range of cat litter products with one mission, and that is to keep homes free of awful cat litter smell.
They're committed to producing products with your happiness in mind, as well as of your cat's health. They have a wide range of products, with the Febreze Freshness and Gain Scented Clumping Clay Cat Litter being one of the latest additions.
It's categorized under their Scented Cat Litter range of products, and it's quite a refreshing scent, to say the least.
Gain and Febreze Freshness are among the most pleasant smells in household products. The Gain Scent makes your cat litter smelling like clean laundry, we kid you not. And together with Febreze Freshness, your cat's litter box will literally smell like someone just made a deep cleaning of the box.
Among other features of the cat litter include a 10-day odor control guarantee with the Ammonia Block Technology, and a unique clumping ability guaranteed by Fresh Step's ClumpLock technology.
I want to expound further on these features so you know exactly what you're getting when you buy this clumping cat litter.
Features
When you see this product, we bet you will be tempted to buy it because of the scent. Febreze and Gain in a cat litter? Now, that's something that will absolutely stir your curiosity. Cat litter and litter boxes aren't exactly the most pleasant things about owning a cat. In fact, cleaning your cat's litter is one of the worst things about having a cat as a pet.
The smell of the urine and feces of your cat can be the most awful smell you can ever imagine and cleaning the litter box is something you will definitely not look forward to. But, lo and behold, Fresh Step has actually made the task less terrible. Why? Because of these features:
1. Ammonia Block Technology
This cat litter guarantees 10 days of odor control. We didn't' exactly count the 10 days but we noticed there was more than a week where our cat's urine and feces smell didn't bother us at all. This technology combats the strongest odor from feces and urine. And it has a unique paw activated feature where the fragrance is released when your cat's paws step on the litter box.
In addition to this technology, it also contains activated charcoal, which helps to trap and eliminate urine odors. Activated charcoal is so much better and more effective than baking soda when it comes to odor control.
2. ClumpLock Technology
Cleaning your cat litter is a dreaded task. Cat litter needs to have a tight-clumping ability so it's easier to scoop out feces and urine from the litter box. When the cat litter doesn't form tight clumps, it's so hard to clean and actually makes a mess when your cat plays with the litter and spreads more waste around.
This cat litter features ClumpLock Technology that forms large scoops of cat litter that are easy to scoop out. You won't have to dig into the litter box to find them.
3. 99.9% Dust-Free
We cannot stress any further the importance of cat litter being 99.9% dust-free. If your cat has a respiratory problem, then Fresh Step Cat Litter is heaven-sent for your cat's health and happiness. It also helps keep surfaces cleaner and the air clearer, making this dust formula absolutely beneficial for you as a pet owner and your cat.
Pros and Cons
While this cat litter is our number one choice, it doesn't mean it's all perfect. Let us tell you about the things we love about it and the things that we think is a minor flaw with the product.
Pros
It eliminates litter odor effectively with the Ammonia Block Technology.
We love the power of Febreze Freshness and Gain Scent that made our cat litter smelling like clean laundry.
We love that it's 99.9% dust-free.
The scent is not overpowering. It's mild and gentle, but also efficient in masking or eliminating litter odor.
Cons
While our cat loved it the very first time, some cats may not have an instant liking to the fragrance. If you're worried that they won't use their litter box because of the scent, you can try to integrate this cat litter to their old cat litter. However, you must make sure that the clumping ability of both cat litters is almost the same, or exactly the same, or else, you will be dealing with a whole lot of mess.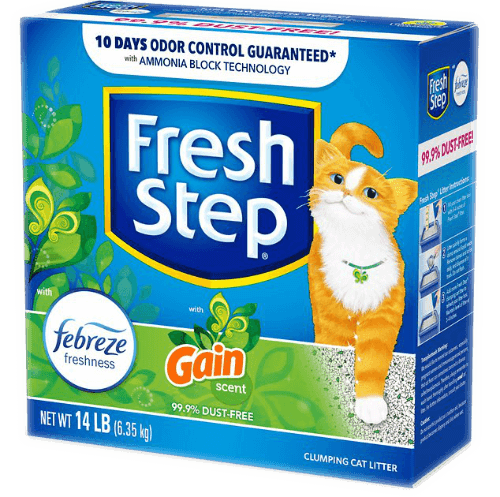 In Conclusion
Our cat stays with us in our room and our bedroom is a tiny space and all, odor control is high on the top of our priorities when it comes to choosing the best cat litter for our cat.
We chose Fresh Step's Scented formula with Febreze Freshness and Gain Scent because first of all, we love these two scents. When we found out Fresh Step launched a scented cat litter product with these two fragrances, we knew we had to try it out.
We were a little wary at first because we all know how cats can be. They're picky and sensitive to smells so we weren't really sure our cat would use her litter box right away when we introduced this litter to her. But as lucky cat owners, she had a liking to it instantly and we were more than happy we didn't have to go through an adjustment period with her.
Aside from the great scent, the odor control, the dust-free formula, and the clumping ability, we also loved the fact that Fresh Step created this product not just for pet owners' conveniences but also with our cat's happiness in mind. When our cat loves using her litter box, we know she's one happy and healthy kitty.
Related: Cat litter deodorizer